Good Morning,
Today I have pulled gifts from the web.
Halloween is right around the corner and several of the items below would fit the bill nicely. Available on the web or in the store, Little Shop of Artists.
From The Alchemists Vessel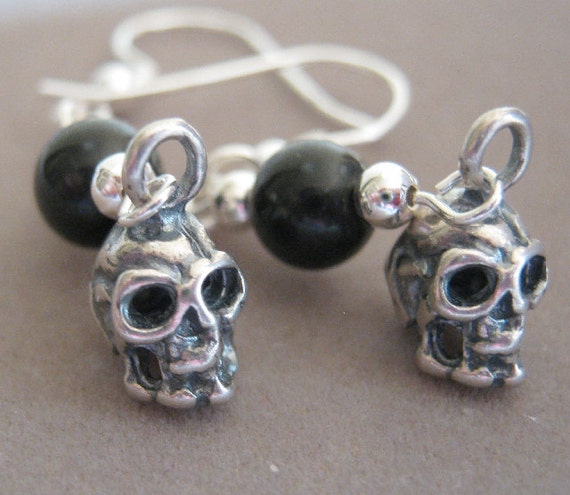 Tiny Sterling Silver skulls and Jet beads are unique and undead adorable in this pair of earrings. Great for Goths, Rockers, Halloween or Necromancers of all kinds!

Sterling Silver skull charms, accent beads and fish hook ear wires are paired with shiny black genuine Jet beads.

Arrives boxed, ready for gift giving.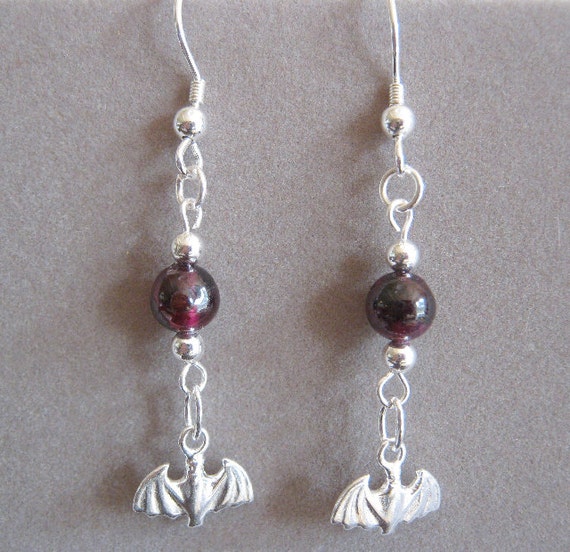 Mina Harker, beloved of two men, one not for this Earth. Perhaps a gift bestowed to lovely lady by the Count himself. Garnet beads, perhaps representing love or life's blood, rest atop Sterling Silver Bat charms, a most recognized symbol. Cute and just right for any Thrall, Vampy-Vamp or aspiring Elvira.

Sterling Silver Bat charms, genuine Garnet and Sterling Silver accent beads complete the pair. Suspended from Sterling Silver fish hook style ear wires.

Arrives boxed, ready for gift giving.


18" total length. This adorable and very shiny Gothic / Day of The Dead (Dia de los Muertos) themed necklace set sparkles and gleams with faceted glass beads in Black, Smoky Purple, and Silver Bi-cone shapes. The focal point is a feminine "Tibetan Silver" Pendant measuring 1-1/2" x 3-4" of a stylized skull clutching a rose between the teeth. Finished with a white metal chain for durability and Lobster Claw clasp.

Although the earrings are not an exact match, they carry on the flower motif with a cute daisy atop their grinning heads. Finished with Black and Smoky Purple glass beads and suspend from Silver Plated Fish Hook ear wires.

*Designers Note: "Tibetan Silver" usually contains little or no silver whatsoever, if there is any silver content in the piece it is about one or two percent. It resembles an antiqued silver piece and is highly popular in jewelry creation for today's current fashion trends. It is mostly Tin and Zinc, very much like pewter, and is usually nickel and lead free, due to allergies to these metals.

This Chain may be added to the length for an additional cost of $5.00

Sold as a set these items may be purchased individually upon request.

18" - Fun and fresh in green glass beads and "Tibetan Silver" Skull and Rose Pendant with not-so matching earrings that carry the flower motif with a cute daisy perched atop their smiling faces.

Tibetan Silver usually contains no silver what so ever, if there is any silver content in the metal at all, it is no more than 1 or 2%. Tibetan Silver is an alloy, usually Tin or Zinc, and is nickel and lead free due to allergies to this metals.

Glass bi-cone shaped beads are graduated in size and range from a pretty emerald to a pastel color. A single link chain completes the necklace.
Pendant measures 1-1/2" x 3/4".
Earrings are 2" total length and hang about 1-1/2" from ear lobe.

Listed as a set, items may be sold individually upon request.

Simple and spooky, these tiny tiny skull charms are perfect for those that want to be spooky without having to wear huge items. Much smaller than a dime and short, great for a little holiday fun at the office, too. Perfect for Pirates, too!

Sterling Silver Skull charms head pins and fish hook style ear wire.

Arrives boxed, ready for gift giving.

Only one pair available.
These items are currently available in the esty shop, but will be available in store as well.
Don't forget the First Annual Haunted Open House and Harvest Market are October 11-13, 2013. If you're a vendor or local artist we'd like to invite you to participate in the event or stop by and see what goodies are available.
Little Shop of Artists
6713 Fairveiw Ave., Suite B
Boise, ID 83704
Like Us on Facebook:
The Alchemists Vessel
Little Shop of Artists
Thank you for stopping in and having a look.
The Alchemists Vessel would like to wish you a pleasant day.