Good Morning,
Today as usual we have five unique or interesting items to share with you from around the web and sometimes Little Shop of Artists.
Featured today is The Alchemists Vessel Chainmaille items. Many of these items are customizable in a favorite color, size, material or other specifics such as length to fit or matching gift sets.
Precious Time - Chainmaille and Czech Glass Bead Watch
$55.00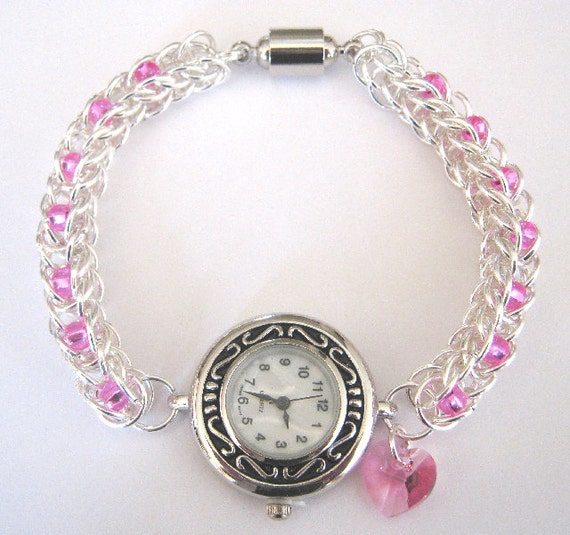 Time is precious. This pretty time piece will sure make you're not wasting yours! Pink and pretty, feminine and fabulous. Great for a pop of color at the office, a lovely piece for Date Night, or that casual outfit. Adorned with a Swarovski Crystal Heart and matching Czech glass beads silver-lined in a bright pink!

8-1/2" Silver-plated wire is hand spun, cut, beaded and linked in the Full Persian Chainmaille weave, accented with Czech Glass beads and a Swarovski Crystal Heart charm. Stainless Steel watch face has a nice pattern and the numbers are clear and easy to read.

Available in Red, Pink, Purple and Crystal Silver-lined (clear) beads. All watches for this style have the same face design.

Arrives boxed, ready for gift giving.

This gorgeous necklace holds a surprise, genuine Green Australian Jasper is secreted along the length of chain and tucked into the focal point of the necklace for a unique and interesting piece. Silver rings have also been tucked here and there inside the chain to add shine and stability to the piece, strong and sturdy, bold and beautiful. Appropriate for Professional attire or Date Night. This piece is fabulous when worn with a simple outfit or tailored suit.

18-1/2" total length including clasp. Silver-plated jump rings are woven in Round and Inverted Round Maille patterns, genuine Green Australian Jasper gemstone beads float through out the length of chain. Finished with a magnetic locking clasp for a secure fit.

Arrives boxed, ready for gift giving.

*Customizable, may be made to desired length.

Free Shipping on this item.


These down-sized Chainmaille earrings make a great addition to any jewelry box. This pattern is one of my favorites, lacy, feminine and very pretty. Silver-plated with a single silver-lined Czech Glass bead in Emerald that drops from a point of the star for a lovely accent.

3/4" wide, Silver plated wire has been hand-spun, cut, beaded and linked in a Celtic Star pattern. A single silver-lined Czech Glass bead in Emerald hangs from the bottom point of the star as an accent. Hypo-allergenic silver tone ear wires finish the pair.

Arrives boxed, ready for gift giving.

Customizable in your favorite metal or bead color. Please contact us for that special pair.

*Precious Metals are available upon customer request.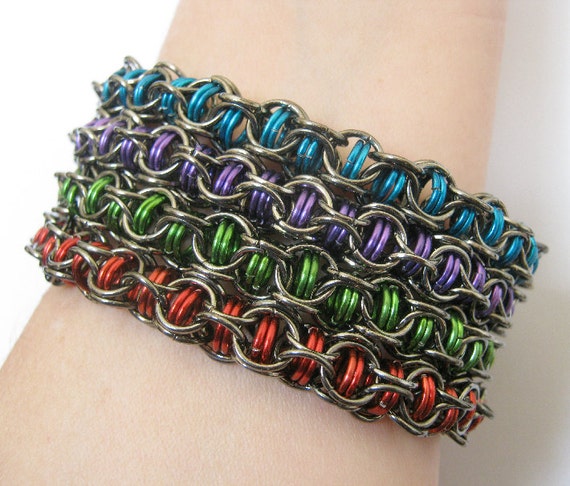 These fabulous bracelets come in a set of four (4). They are dark, dreamy, striking, yet subtle, just right to match your mood, attire or lipstick. A collection of pretty ribbons for the wrist, these are an excellent choice for the tailored grey Professional suit, a sleek and sensuous bauble for Date Night, a surprise under the black lights at the club, or a cool element to go with your favorite pair of jeans and t-shirt on that weekend get away. Terrific for Rocker, Biker, Goth, and Metal fashions, a superior accessory for velvet or leather. Would make a unique ensemble for Film, Stage or Event attire or costuming. The mystery, how do the rings just float there like that?

Each bracelet measures 8-1/4" to 8-1/2" long, including clasp. Gunmetal tone (over copper) and enameled aluminum jump rings in Teal, Purple, Olive Green, and Red, are woven in the Inverted Round Maille pattern and finished with a strong magnetic clasp that holds well during everyday activities and movements.

Arrives boxed, ready for gift giving.

This item is not customizable.

Items are 20% Off the individual sale price. Bracelets are also available individually.

Free Shipping this item.

Also available in silver-plated outer rings.

Ask us about Wholesale and multi-item order discounts.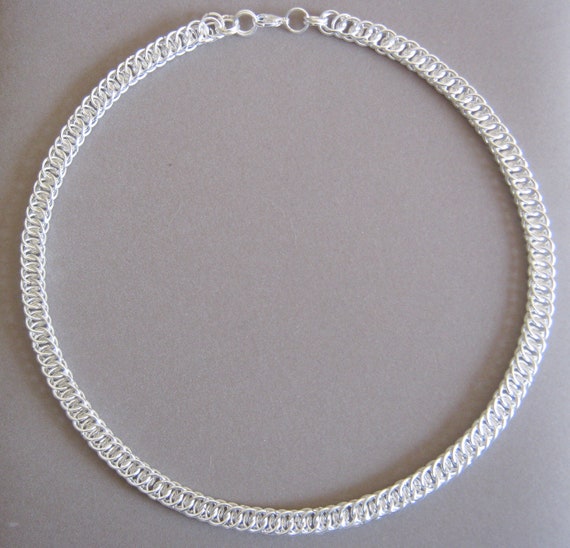 *THIS ITEM ON SALE

The gallant knight! What do we think of when we play Princess as little girls? Knights in Shining Armour, of course! Your knight will look fierce and foreboding wearing this simple and shiny piece of chainmaille. Yes, it is Armour. 18" total length and just right for any Knight out on the village! Perfect for Costumes or SCA attendees. Appropriate for women as well. Heavy duty, strong and supple.

Scaled down to jewelry size this necklace is woven in the Half-Persian 4-in-1 Chainmaille weave. Silver Plated jump rings and matching Lobster Claw clasp complete the chain.

Arrives boxed ready for gift giving.

Customizable and Sizable this necklace maybe made to desired length and with the metal of your choice, including Gold Tone, Nickel, Sterling Silver Plated, Antiqued Copper or Bronze, Jeweler's Bronze (aka Merlin's Gold) or Precious Metal.
We would like to invite you to:
Follow this blog
Like us on Facebook: The Alchemists Vessel
Find us on the Web: The Alchemists Vessel
Little Shop of Artists
Shop with us in person:
Little Shop of Artists
6713 Fairview Avenue, Suite B
Boise ID
83704
Behind A-1 Video Game Exchange between Bob's Bicycles and Jerry's State Court Cafe.
Thank you for stopping in and having a look.
The Alchemists Vessel would like to wish you a pleasant day.