Good Morning,
Today we have a look at five items from around the web, shops, sites, and crafty-people.
From: The Alchemists Vessel
$500.00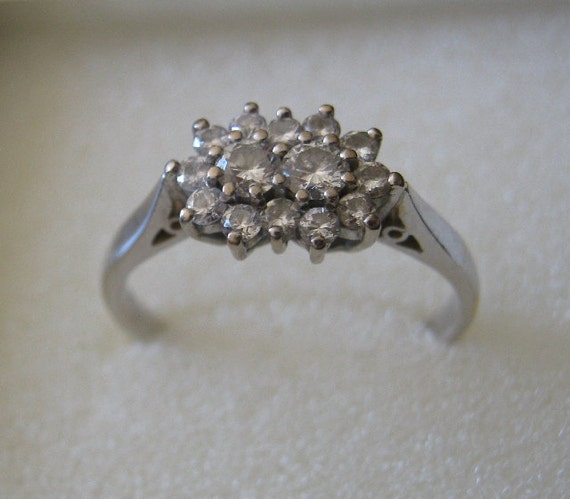 Would make a wonderful wedding ring or a 2 or 20 year anniversary gift.

The Diamonds are high quality about 4mm in diameter, smaller diamonds are 2mm in diameter. I do not know the total carat weight. The ring shank is stamped with a number along the base of the interior.

The ring has been cleaned and polished and the cleaning process repeated before shipping.

**Price includes Insurance and Certified Shipping Costs.

Arrives boxed ready for gift giving.

This item can not be re-sized and is sold as is.

Sellers Note: This item is / was manufactured and comes from the shop owner's selection of Vintage and Fine Jewelry items.




Just in time for Halloween!

Natural Jet and Carved Carnelian beads grace this 18" long One-Of-A-Kind Halloween themed necklace. Center Piece is 1" wide with three Sterling Silver Charms, a Pumpkin and two Bats. Sold as a set the Earrings are adorned with Jet beads on Sterling Silver headpins and Ear wires. Finished with a Sterling Silver Gothics Hook Clasp at the side (Very Fashionable)

Arrives boxed, ready for gift giving.

Sterling Silver Bar, Charms, and Beading Wire strung with genuine Jet and Carnelian beads, Sterling Silver Gothic style Clasp, closes on the side.
$25.00




Steampunk or Industrial Fashionistas will love this substantial and stunning chainmaille charm bracelet. Bronze charms, stars, gears, and disks encircle the cuff, interspersed with beautiful faceted bi-cone shaped glass beads in Amber and Brown. Makes a soft and lovely sound when worn. Light weight and comfortable.

8-1/2" total length and 3/4" wide, including clasp. "Merlin's Gold" or Jeweler's Bronze wire has been hand spun cut, antiqued and woven in a version of the European weave. Gears are sold as jewelry components and have never been used in any device or machinery that I am aware of. Disks are hand-drilled and sanded smooth. Each charm and bead is attached individually. Bi-cone beads are 6mm translucent amber and brown. Finished with a matching Toggle clasp.

Arrives boxed, ready for gift giving.
$45.00

This stunning cuff style bracelet is sensual, smooth and silky as it slides across your wrist. Gorgeous by itself, it needs no embellishment. Perfect with that little black dress or more formal attire. Best suited for evenings out, this bracelet is close to 3 ounces, and some find after an extended period of wear that it may feel heavy. Fantasy or High Fashion this bracelet is sure to be a conversation piece as well as a fabulous and unique accessory for your outfit.

1" wide and 7.25" in length including the clasp. Silver plated rings are woven in the deceptively intricate Dragonscale Chainmaille pattern. Finished with a magnetic locking clasp for a secure fit. Dragonscale is usually woven with mixed metals, like copper and bronze, or two to three colors in anodized aluminum with the inner rings creating a pattern. This bracelet is different and unique in the single color or tone of the rings used.

We would like to remind the shopper that although this is Chainmaille and traditionally used for armor or protective clothing, this item is meant for personal decoration only. It will not protect you from projectiles or weapons of any kind, this includes and is not limited to, bullets, knives, swords, darts, arrows, sticks, stones, ballpoint pens, snowballs and thoughtless words.

Arrives boxed ready for gift giving.

*Customizable, may be made to desired length. Remember added length equals added weight as more metal is added to the chain. Please allow 2 - 3 Day shipping for custom orders. We need time to make them!
$15.00

These down-sized Chainmaille earrings make a great addition to any jewelry box. This pattern is one of my favorites, lacy, feminine and very pretty. Silver-plated with a single silver-lined Czech Glass bead in Emerald that drops from a point of the star for a lovely accent.

3/4" wide, Silver plated wire has been hand-spun, cut, beaded and linked in a Celtic Star pattern. A single silver-lined Czech Glass bead in Emerald hangs from the bottom point of the star as an accent. Hypo-allergenic silver tone ear wires finish the pair.


Arrives boxed, ready for gift giving.

Customizable in your favorite metal or bead color. Please contact us for that special pair.

*Precious Metals are available upon customer request.
Thank you for stopping in and having a look. Many of the items in the shop are customizable upon request.
Little Shop of Artists
6713 Fairview Ave., Suite B, Boise
Many of the items in the on line store will be made available during the Harvest Market, October 11 -13, Friday through Sunday at Little Shop of Artists in conjunction with A-1Video
Bookmark us on the web or find us via any of the links to your right at the top of the sidebar menu, Rebelmouse, Pinterest, Linkedin, and more.
The Alchemists Vessel would like to wish you a pleasant day.