Good Morning,
As usual we have five unique or interesting items from shops around the web.
From Sue's Arts

Gorgeously beautiful, elegant, charming one of a kind natural Leopard Jasper pendant with .925 silver.

The ring is the only one I have in size 7.5 as well as the set of earrings which are about 1 5/8" in size.

Chain is 18" long sterling silver.

CUSTOM ORDERS WELCOME

DELIVERED IN A GIFT BAG
From: Jackie Guttuso Designs

This collage of a cardinal in a birch tree is an original, one of a kind piece that I created with acrylic paint on professional grade heavy watercolor paper.

I left it unmatted and unframed so that you can pick out the colors that look best with your decor. Check out the photos above to see what it might look like framed.
From: Wire Witchery

This pendent is a designed to look like a Christmas wreath and is made with a random assortment of dyed freshwater pearls, Swarovski Crystals, Calcite, White Rivershell, Apple Green Chrysoprase, quartz, and seed beads to create a lovely jumble of holiday colors.

This item is on sale for a limited time and will not be relisted when it expires.
From: Amazing Knits

A warm, winter scarf, hand-knit. Measures 56 inches long and is made with acrylic, light green yarn.
From The Alchemists Vessel
Caught Couture Steampunk Style Necklace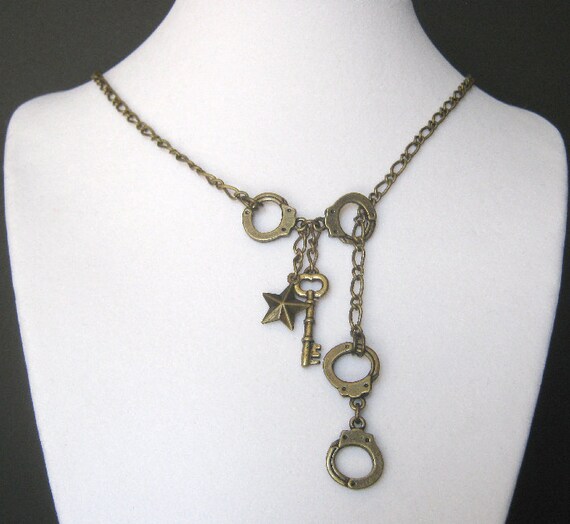 Antiqued bronze chain, Handcuffs, star and key charm are combined to create this bold and beautiful lariat style necklace. Terrific for Steampunk Fashions, or something unique and unusual for your jewelry box. Adjustable for three different looks. Wear the charms clustered together like a pendant, or change up the length and position of the chain, by gentle pulling handcuff charm in a downward motion. Adjust to a collar and long lead, or shorter length as shown above.

27" total length, there is no clasp. The chain slips easily over the head and can be adjusted to the desired style. Created with antiqued bronze chain, two pairs of handcuffs, a star and key charms The handcuffs do not open.

Arrives boxed ready for gift giving.

Thank you for stopping in and having a look.
The Alchemists Vessel would like to wish you a pleasant day.