Good Morning,
Happy Friday! Welcome to the weekend. I think it's time to have a little fun on the blog.
As many of you know when I first began the on line portion of the business, it was devoted to all things Birthday-ish, including zodiac signs, birthstones, charms, T-shirts. Well I am disappointed to say that went over like a ton of bricks. However many years later, and a lot wiser, we still offer those items, but have moved the focus of the business to jewelry that everybody can associate with, feel comfortable and beautiful in and wear with pride.
Let's Talk Taurus
Taurus ~ April 19 ~ May 20 or April 21 to May 22 all depending on which book, Newspaper astrologist or other source you may read. However the constants remain the same:
Taurus is the Celestial Winged Bull, and the second sign of the Zodiac.
Element is Earth
Planet is Venus
Stone is Emerald
Plant is Lily
Lucky Number is 6
Special Day - Friday
Taurus' are ~ Artistic, loyal, loving, sensual, steadfast

,

determined, practical, patient

and reliable.
The Glyph ~
The glyph represents the head and horns of a bull or the chin and the Adam's apple (Throat) of a human. Symbolically it is a half-moon forming a cup that rests on the circle of the Sun. It represents material power and wealth derived through the force of will.
Original Taurus Glyph, by Alixandra of The Alchemists Vessel
Birthstone Fun Facts
May - Emerald, a beryl stone.
The Stone of Success and Love
Physical Description: A deep to light green translucent stone,
Metaphysical Properties: Traditionally used to enhance memory
Alternatives:
Malachite: A Deep Forest Green Color
Its bright green color mimics the moors and reminds one of outdoors, hills, trees, and grass.
Metaphysical Properties:

Promotes harmony and emotional balance, and reduces stress.
Interesting Fact: Used as a pigment for paint until about 1800. Malachite has been mined for about 3,000 years at Timna in Israel, also called "King Solomon's Mines".
Mythology:
Zeus, the father of the Greek gods fell in love with Europa, the Phoenician princess. She was always guarded by her father's soldiers. Zeus transformed himself into a beautiful white bull with a pair of golden horns and wandered towards her while she was plucking flowers in her garden. (The cad!)
Europa was mesmerized by the beauty of the white bull and made him her pet. They became instant friends. One day, Europa climbed onto the back of the white bull, who making use of the opportunity, carried her away to Crete. After reaching Crete, Zeus revealed himself and later married her. According to Greek mythology, Zeus as a white bull represents the constellation Taurus.



Aventurine (Green), A Crystal.
Often miss-pronounced or miss-spelled "Adventurine", this beautiful crystal ranges in colors from yellow to deep green and maybe transparent or opaque.
Metaphysical Properties: Inspires joy, a positive attitude and mental clarity.
Interesting Fact: The name Aventurine is derived from the Italian 'ventura', meaning "a mistake". In the 18th a speckled glass was created by accident in Venice. The stone was named for this glass due to its appearance. Sometimes mistakenly referred to as "Indian Jade".
Famous Taurus:
Anne-Margret
Fred Astaire
Johannes Brahams
Catherine the Great
Charolette Bronte
Cher
George Clooney
Sigmund Freud
Ulysses S. Grant
Adolf Hitler
Jim Jones
Liberace
George Lucas
Karl Marx
Meatwad
Golda Meir
Ho Chi Mihn
Vladmir Nabokov
Willie Nelson
Al Pacino
Eva Peron
Robespierre
William Shakespeare
Harry S. Truman
Rudolph Valentino
Orson Wells
We have items in the shops geared toward the Taurus, like these: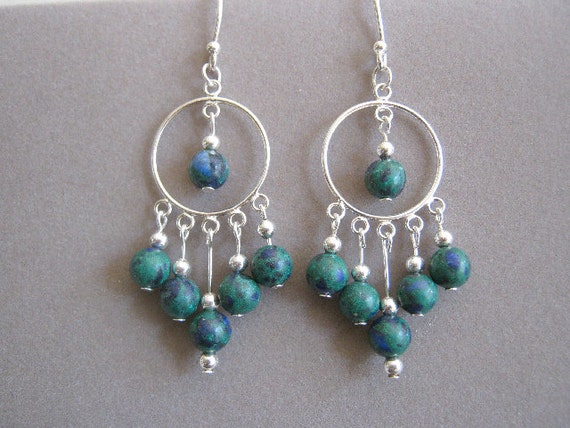 Genuine Malachite with gorgeous Azurite inclusions. Azurite is a beautiful blue stone, although too soft for jewelery-making on its own, it does appear on occasion in malachite, creating a lovely speckled appearance across the stones surface. Used here to created these absolutely stunning and unique pair of Sterling Silver Gemstone Earrings.

Beautiful deep green genuine Malachite beads hang in a lovely chevron pattern from Sterling Silver Hoops. Perfect for Boho fashions, hipster, rockers and a terrific accent for Office attire. About 2" long.

Sterling Silver fully soldered hoops and genuine Malachite with Azurite inclusions beads with Sterling silver findings and accents beads. Suspended from Sterling Silver Fish Hook ear wires.

Arrives boxed ready for gift giving.

*Limited availability! Once these beauties are gone, they are gone!
Perfect for May Birthdays!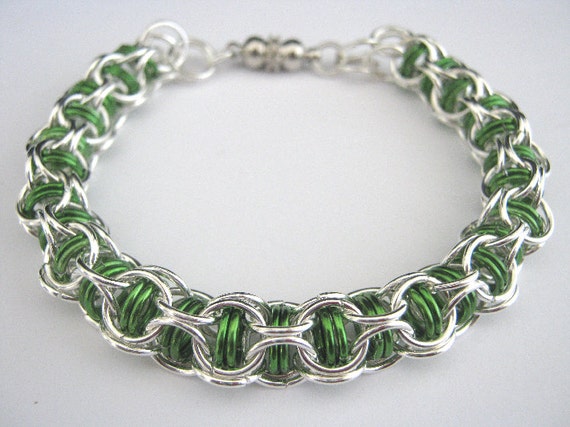 Gorgeous green, fresh and fun to wear. The stunning chainmaille bracelet is a colorful piece and just right for any occasion, a pop of color at the office, or for a casual weekend get away accessory. From the Captured Color Collection, this lovely piece is made in this year's must have fashion color. Light weight and comfortable for extended wear.

8" long including clasp. Silver plated wire and enameled aluminum jump rings are woven in an Inverted Round Maille pattern and finished with a strong magnetic clasp that holds well during everyday activities and movements.

Arrives boxed, ready for gift giving.
These charms were purchased at Silver Enchantments of Arizona, and are used in a number of jewelry pieces from earrings to charm bracelets they may be sold in sets or individually to add to your already exi

sting pieces. They are tiny! Sterling Silver, and the back is even stamped 925. Custom creations are available.
We have all twelve Zodiac signs available. The

original

graphic (and 11others) was available on Cafe Press, but having no store views and little interest, I have closed that shop. Customized items are available. Please contact the shop with your requests. All questions are answered and quotes are free.
You can find our shop at either of the sites below, or find the fan page on face book. Did you know you can shop directly from the fan page? You can.
The Alchemists Vessel on
Etsy
Handmade Artists
Facebook, just click on the Etsy Showcase or Alchemists Vessel buttons under the cover ph

oto on the page

.
Offic
ial Site
Thank you for stopping in and having a look.
The Alchemists Vessel would like to wish you a pleasant day.
*Various sources and books were used in the creation of this post. No one source was found to be more accurate than an other, please keep in mind that the Zodiac is different for different cultures all over the world, and that information not only varies from culture to culture, but from author to author or whatever material one may use as resource or research.