Good Morning,
I hope everyone is well rested and relaxed and ready to start the work week. As we slowly seep into summer, and think about bringing out the strappy sandals and sundresses, out door concerts on the lawn and pick-nicks in the park, it is also time to accessorize for those fun-filled days.
I would like to apologize in advance, Etsy has once again changed things and it is now difficult to copy the actual listing and re-post it here. If things look funny or strange, I do apologize.
We are currently working on a line of pretty, light weight, sturdy anklets, and other bright summer-time items. Currently in the shop we have several things available:
Instead of Five Gifts from separate shops, we feature five items from The Alchemists Vessel. Please note that these items are also available at The Alchemists Vessel on the Handmade Artists site as well.
This item is brand new and also recycled. Yes, things work like that.
Recyclabauble





U.S. Size 8-1/4. This fabulous bright blue glass cabochon organic shaped statement ring is one of a kind. Crafted from recycled materials, found or neglected items, that with much love and little attention were up-cycled into this beautiful and unique ring. Would make a great Cocktail ring, a terrific piece for dancing in the club or some flashy sparkle as you rock the night away on stage.

Definitely looks hand made, the shape of the stone has dictated the formation of the bezel, soft edges and waves accent the cabochon's shape well. An elegant ring with a very primitive appeal.

Hand forged from start to finish. The Sterling Silver shank was cleaned and the damaged metal removed. The metal was annealed (heated), re-shaped on a mandrel, sized, sanded, and soldered to the bezel back. Finishing touches include polishing.
The Fine Silver bezel is also repaired and up-cycled Empty of a stone, the missing stone has been replaced with a lovely glass cabochon that fit the setting nicely. Split along the seam, it has been soldered, sanded, cleaned and formed around the glass cabochon, which just happened to fit the bezel cup.

The glass cabochon has bubbles and inclusions inside the piece itself. These may be seen in the photos, although not immediately visible when worn, they add a nice natural look to the ring.

*Arrives boxed, ready for gift giving. (Ring box may vary)

This ring is not customizable, and may not be re-sized again.

Please see our selection of other rings in the shop as well.

*Free Shipping this item.
How about this pretty pink Zircon ring. You don't have to be a Princess or a Bride to wear this fabulous and feminine ring.
Princess Bride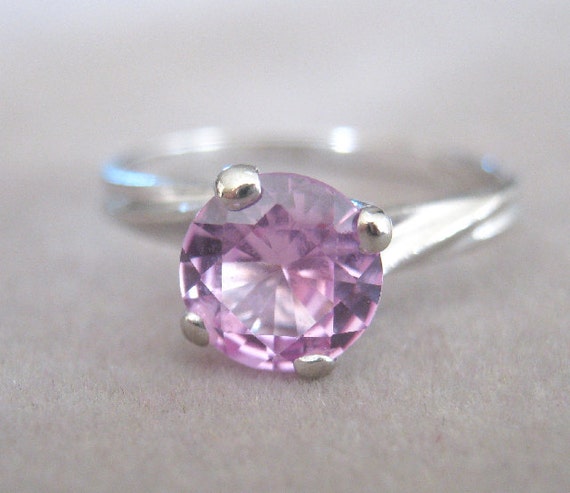 Pink, perky, pretty. This adorable ring is just right for the Princess in your life. Would make an excellent alternative for October Birthdays or a unique and different ring for that special question one might like to ask.

The lovely ring is fashioned from a vintage 10K White Gold ring shank with a delicate spiral along the sides that carries to the four prong setting adding a lovely twist on a traditional design. Genuine pink Zircon gemstone is hand set. Zircon is a mineral that comes in a crystalline form, it ranges in colors from yellows to reds, the most common being Hyacinth (yellow), not to be confused with Cubic Zirconia (CZ),a synthetic material also called synthetic gems.

White Gold is Gold. It is an alloy of yellow gold usually combined with a white metal like palladium to achieve the white color. 10K refers the the amount of pure gold in a piece. 10K is about 41.7% pure gold.
How about this really cute pink and silver plated chainmaille bracelet.





Feminine, and super cute. Pretty in pink, this fun, flirtatious and colorful piece is just right for any occasion, a pop of color at the office, or for a casual weekend get away accessory. From the Captured Color Collection, this lovely piece would make an excellent alternative for a Breast Cancer Awareness lapel pin ribbon. Light weight and comfortable for extended wear.

8" long including clasp. Silver plated wire and enameled aluminum jump rings are woven in an Inverted Round Maille pattern and finished with a strong magnetic clasp that holds well during everyday activities and movements.

Arrives boxed, ready for gift giving.

*Customizable, may be made to desired length or in color of choice. Check the shop to see if one isn't already available in your favorite color. Multicolor requests, please add $5.00

Currently available in: Dark Blue, Purple, Olive Green, Pink, Teal, Red, Black and Copper (enameled aluminum or natural)

Free Shipping on this item.

Custom orders, please allow 2 - 3 Day shipping, we need time to make your item.
Or how about these super cute mimi-maille Celtic Star / Snow Flake Earrings.
These down-sized Chainmaille earrings make a great addition to any jewelry box. This pattern is one of my favorites, lacy, feminine and very pretty. Silver-plated with a single silver-lined Czech Glass bead in Emerald that drops from a point of the star for a lovely accent.

3/4" wide, Silver plated wire has been hand-spun, cut, beaded and linked in a Celtic Star pattern. A single silver-lined Czech Glass bead in Emerald hangs from the bottom point of the star as an accent. Hypo-allergenic silver tone ear wires finish the pair.

Arrives boxed, ready for gift giving.

Customizable in your favorite metal or bead color. Please contact us for that special pair. Available with or without bead accent.

*Precious Metals are available upon customer request.
Here is a cute bracelet that is in the Steampunk Style, very fashionable.
Steam Charm
8" including clasp, this unique Steampunk style bracelet is sure to be a conversation starter and a crowd-pleaser. Sturdy, substantial and decked out with gears, disks, stars and lovely glass beads in amber, brown and clear shades.

"Merlin's Gold" aka Jewelers Brass has been antiqued and finished with an aged bronze look. Brass gears, bronze stars (these charms are hallow), bronze disks, and glass bi-cone shaped beads in amber, brown and clear surround the length of European Weave Chainmaille pattern.

Arrives boxed ready for gift giving.

*Customizable, may be made to desired length at no additional charge. Please indicate wrist circumference when ordering. If no measurement is given a standard 7-3/4" to 8" bracelet will be sent. Please use the Contact button to ask about customization.
Thank you for stopping in and having a look, perhaps inspiration may strike and find you surfing the shop for more fun items.
The Alchemists Vessel would like to wish you a pleasant day.