Good Morning,
I won't start off with a lot of verbiage, instead let's get to those gift ideas.
From: Sue's Arts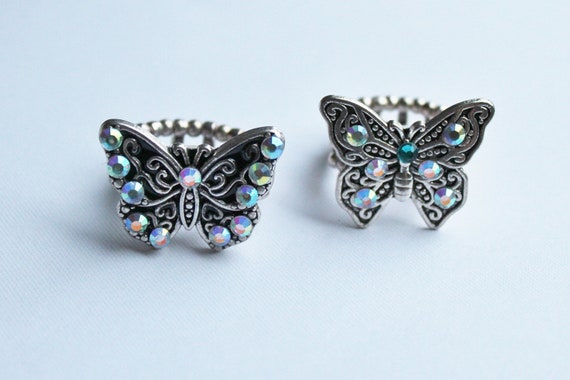 SOLD SEPARATELY BY #

These beautiful and unique rings are adjustable.

DELIVERED IN A GIFT BAG

CUSTOM ORDERS WELCOME
From: Pizz

el

waddles
You will receive 1 pair of handmade Gold Flourish & Peridot Aqua Glass Chandelier Earrings.

Gold Flourish & Peridot Aqua Glass Chandelier Earrings made with gold tone flourish chandeliers with 6mm x 14mm oblong twisted peridot aqua glass beads & gold plated detailed divider disc beads suspended from the bottom. Gold tone ear wires to match.

These Gold Flourish & Peridot Aqua Glass Chandelier Earrings are a fun, lively and playful set. Add a fun & flirty sparkle and unique style to any look. A real statement piece.

Ships within 3-5 business days of payment. Shipping & handling $2.50 flat charge in the US.
From: Copper Tree Art
Tribal Copper Necklace- Copper bowl with hand painted bead
This necklace was hand made out of a copper sheet. The disc was created and then was then domed to give it a slight curvature. The piece was given a patina to darken its appearance and a tan, gold and brown painted bead sits upon it. I hand riveted a spot where a natural brass chain and toggle are attached to the pendant.

The disc is approximately 1.5 inches in diameter. The total chain lenght is approximately 19.5 inches. If you would like to change the length of the necklace, please message me! This piece has been sealed with a lacquer and wax to protect the finish. Please read all shop policies before purchasing!
From: Raptor Ridge Originals
All natural dreamcatcher milkweed pod ornament....

✿ dried milkweed pod
✿ natural raw silk fiber
✿ sage green color
✿ camándula or Jobs tear bead
✿ feather
✿ birch wood gift box 4" by 4"
✿ decoupage vintage butterfly paper

All of our items are created with great care, and when you make a purchase from us you can be sure that it is special...every item is handmade by my husband or/and I...and
Our shop is always evolving and new items are listed daily...so please do check in often....
Raptor Ridge Originals
Here's a Gift and A Shop with a cause. I didn't set out to promote that, but it is for those less fortunate and in need. In support of the Spokane Humane Society
From: Butterfly Sundries
Do you love cats? How about butterflies? Now it's possible to have both, without worrying about the cat trying to catch the butterfly!

This is the first "Fur Babies" hair barrette, created specifically to support the Spokane Humane Society.

It was cut from 20g yellow brass sheet metal, filed, and cleaned. Then an ooak design was drawn by hand onto the surface before it was placed in the etching solution. Cleaned, painstakingly hammered into shape and work hardened by hand, it was then drilled and riveted onto a pre-fabricated 50mm french barrette mount (nickle plated and lead-free). Antiqued and polished, this hair clip has a rustic charm which will bring you joy for years to come!

Brass does, of course, over time develop an attractive patina. This is part of the beauty of the material. The surface does have a thin protective layer of wax to protect it, but expect the beautiful patina to develop gradually.

From beginning to end, this item is handmade with love... with all the attention you deserve!

This item comes with a FREE white gift box, for your gift-giving pleasure, and is shipped via Priority mail with insurance and delivery confirmation.

As always, 10% of the profits from the sale of this item go to support my Featured Charity!

A little information about the organization which inspired this design: By mandate of the Spokane Humane Society's board of directors in January 2006, the SHS stopped euthanizing animals due to lack of space. Limited resources and available kennels made it impossible to continue to accept unlimited animals and made it necessary to work with their community partners in animal control and breed specific rescue evolving to their current day "Reservation required" shelter.This change initially reduced the number of animals they served each year but increased the number of animals being permanently placed into loving homes and improved placement rate from 52% to 79% from 2006 to 2007. As a part of this policy change, strays are referred to their appropriate animal control facility and are being transferred back based upon the needs of the animals/partner agencies and their space available. In 2012, they had a placement rate of 97%.

The 20g yellow brass plate is just shy of 2.5 long and a little more than 1 inch wide.
Thank you for stopping in and having a look.
The Alchemists Vessel would like to wish you a pleasant day.