Good Morning,
Ah, the Summer Vacation, I remember those. Most people can't or don't take them any more for whatever reason that may be, but it is fun to think about going someplace exotic, or tropical, perhaps to another country or state you have never been to before.
This week's Featured Artist for the blog ring is none other than myself. I think we can take care of those vacation accessory needs! You may shop either The Alchemists Vessel on Handmade Artists or The Alchemists Vessel on Etsy.
Going to the beach? How about these adorable Sea Horse earrings. Perfect for Steampunk Summer fashions or just something to match sand and surf, you'll look fabulous in these highly detailed earrings.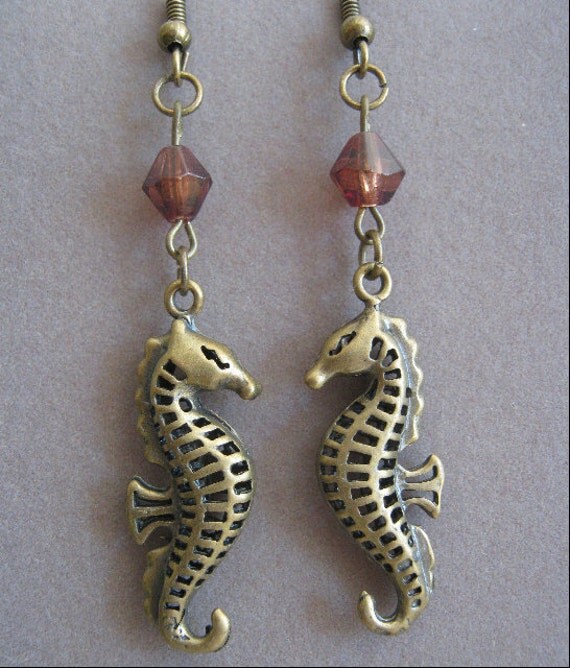 Adorable aren't they? Just short of 1-1/2" when worn, this cute and charming pair of sea creatures are filigreed and 3-Dimensional with the pattern on either side of the charm. Topped with a Bronze / Brown Bi-cone Glass Bead these are light weight, and a fun summery addition to any wardrobe.

Arrives boxed, ready for gift giving.

Free Shipping for this item
Available from handmadeartists.com
Or how about this interesting Chaimaille Bracelet? Light, pretty, and just right for a Summer outing or Fourth of July Fire Works display.
Product Details:
Bold, bright and beautiful, this firey and racey little bracelet is not for the timid. Red rings accent the length of chain and makes for a stunning accessory. A fabulous pop of power color at the office, a lovely accessory for a romantic evening out, or a livley and electric addition to a casual outfit. You're sure to dazzle them with this vibrant bangle. Would make a great July Birthday present.
8.25"total length, including clasp. Silver-plated wire and enameled aluminum jump rings in Red are woven in an Inverted Round Maille pattern and finished with a strong magnetic clasp that holds well during everyday activities and movements.
Arrives boxed, ready for gift giving.
Customizable, may be made to desired length or in a favorite color of choice.
Multicolor request please add $5.00
Check the shop to see if there in not one in your favorite color in our ready-to-wear collection of pieces.
"Starry, Starry night, paint your palette blue and grey..." Vincent, Don McLean.
Although written about or inspired by Vincent Van Gogh, the song is a wonderful tribute to the beauty that is a Summer evening sky. These perfect little stars will do nicely as an accessory for your warm starry nights this summer.
Product Details:
It's full of stars! These super cute earrings are Sterling Silver, findings, chain, stars charms and ear wires. That's it, Sterling Silver nothing else. Great for Bohemian Fashions!
Arrives boxed, ready for gift giving.
Summer is time for things that sparkle in the sunshine and this bracelet certainly does that! Glass beads throw rainbow colors across their surface as you move or when they catch the light.
From the $10.00 Collection
Product Details:
This pretty little bangle is simple and shiny. Coated glass beads in silver rainbow in iridescent blues, pinks, purples, greens and yellows.
16" total length, beads are threaded along the wire in an alternating pattern. Finished with simple loops, matching beaded dangles may be added at the customers request.
Arrives boxed ready for gift giving.
Last but not least, this lovely pretty in pink timepiece. No one wants to to keep track of time when having a good one, but alas, time is of the essence on occasion and you might as well be stylish and unique when keeping it.
Product Details:
Pink and precious, this pretty time piece is feminie and fabulous! Great for the office, date night, or that casual outfit. Adorned with a Swarovski Crystal Heart charm in matching pink.
8-1/2" long. Silver plated wire is hand spun, cut, linked and beaded in the Full Persian Chainmaille weave. Stainless Steel watch and Locking Magnetic Clasp finish the piece.
Available in Red, Purple and Crystal Clear beads.
Arrives boxed ready for gift giving.
Thank you for stopping in and having a look.
If you're in the Boise area, remember to stop by Little Shop of Artists opening July 01, 2013, all these and many more items will be available in the store.
The Alchemists Vessel would like to wish you a pleasant day.